Custom
THEME DEVELOPMENT
A custom theme and design can completely transform the look of your store.We can follow your design or create custom theme from scratch.
Creating Unique Identity for
your store
SHOP E-COMMERCE SERVICES
THEME DEVELOPMENT SERVICES

We specialize in creating lightweight and high-performing themes by following your design pixel by pixel.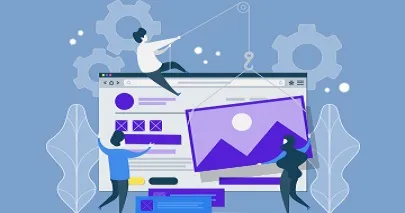 Theme Development
If you wish to launch a unique store that doesn't mimic any existing layout and templates, create a new theme based on a fresh design. A theme developed from scratch will not only offer the uniqueness to stand out in the crowd and be optimized per your business requirements. Our expert
designers and developers can exclusively build a new design and frontend layout for you.
Customization & Re-design
We offer to customize your themes as per your design and content requirements giving your store a fresh and more appealing look. We'll also optimize it for performance and SEO. In case you have any specific requirements for design, we can make them possible.
Store Set-up
We plan, set up, and launch your store as per your theme layout and concepts. We ensure that your website represents your business model and values and establishes an emotional connection with your audiences.
Store Performance Optimization
The theme is crucial for any store performance; old themes and unnecessary code can degrade the store performance. Therefore, we help to remove all bad codes and optimize themes and other elements to give an exceptional experience to your users.
Plugin Integration
Our team is an expert in theme layouts for technologies like Shopify, Magento, WooCommerce, etc. We can integrate plugin code to your theme, enabling custom features, and follows only best practices for these integrations.
Support & Maintenance
We provide regular support for theme updates, upgrades, and issues. You can subscribe to our support contract, which includes a few hours a month to a 24×7 support system depending on the contract.
GET IN TOUCH

Share Your Theme Development Requirement with us. We will get in touch with you within 24 hours on Weekdays and within 48 hours on Sat/Sun.
CUSTOMER SUPPORT TEAM
Customer support team will pick your requirement and assess it to see if we have a suitable offer for you and may contact you to understand more about the requirements.
TECHNICAL TEAM
Support team will discuss with the Technical team and get a proper proposal for you for your requirements. Technical team may reach out to you if needed.
PROJECT INITIATION
Once you approve the project proposal and pricing then a project manager will be assigned to you who will setup and liaise with the team for you.
START YOUR PROJECT