CHATBOT FOR
E-COMMERCE STORES
Get a human-like ChatBot for your E-Commerce Store and never miss a query from your customers.
Transforming Businesses
INTEGRATE CHATBOT
HOW CHATBOTS ARE USEFUL?

Product Recommendation
ChatBot can help you automate product recommendations by taking customer preferences online. Personalized recommendations are a handy tool in the hands of online retailers. It improves the customer experience by making it easier and faster to shop. At the same time, it even provides more data to offer more accurate product predictions.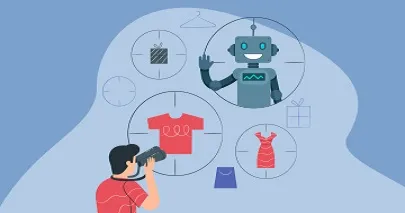 Personalize Product Search
ChatBot helps personalize the product search through various questions and if-else-then scenarios. The personalized search leads to greater customer satisfaction.
Order Automation
Chatbot helps in automating the complete order process with special assistance at each step of the buying process.
Support
The customer gets support directly from ChatBot. For example, suppose you have bought an item and are awaiting delivery. In that case, you can provide your order number, and ChatBot can inform you about the shipping status.
Customer Acquisition through Social Media
Chatbot on Social Media platforms like Facebook helps reach new customers and convert existing leads faster.
Reduces Shopping Cart Abandon Rate
A longer checkout process is one of the reasons shoppers abandon their carts. Integrating a chatbot into your online store can shorten this process and reduce the number of abandoned shopping carts.
Improving Customer Satisfaction
E-commerce chatbots can clarify all customer doubts by providing 24/7 support. As a result, your customers would no longer suffer from annoying calls or scroll endlessly in FAQ sections.
Customer Data for better experience
You can collect customer data like purchase history and enhance their experiences with better service.
WHAT WE DO ?

ChatBot Setup
We setup an intelligent and automated ChatBot for your E-Commerce store. We add product search, product recommendation, order, and checkout processes to your ChatBot.
We also feed the FAQ, user guide, pricing details, shipping-related details, and other information to your ChatBot so your customers have a great shopping experience in your store.
ChatBot Integration with Social Media and other platforms
We integrate ChatBot with various social media platforms and other platforms as well like Web/ HTML5/ JavaScript/ Node.js/ Python/ PHP/ Java/ .NET/ C++/ Android/ iOS/ Ruby/ Facebook Messenger/ Twitter/ Skype/ Slack/ Telegram/ Amazon Alexa/ Microsoft Cortana/ Viber/ Twilio/ Tropo/ Kik/ Line/ Cisco Spark/ Cordova/ Unity/ Xamarin/ Actions on Google.
ChatBot Integration with Mobile App and Web Applications
We integrate ChatBot into Mobile apps and Web applications. Furthermore, we make sure that the ChatBot experience is seamless in these apps by customizing the chatbots as per the theme and style of these applications.
ChatBot Development
We can develop a new ChatBot platform from scratch as per your needs. We can use the technology as per your requirement so you can make it compatible with your other products as well.
GET IN TOUCH

Share Your Chatbot Requirement with us. We will get in touch with you within 24 hours on Weekdays and within 48 hours on Sat/Sun.
CUSTOMER SUPPORT TEAM
Customer support team will pick your requirement and assess it to see if we have a suitable offer for you and may contact you to understand more about the requirements.
TECHNICAL TEAM
Support team will discuss with the Technical team and get a proper proposal for you for your requirements. Technical team may reach out to you if needed.
PROJECT INITIATION
Once you approve the project proposal and pricing then a project manager will be assigned to you who will setup and liaise with the team for you.
HOW CAN WE HELP?