E-MAIL AUTOMATION
CAN DO WONDERS FOR
We help you generate revenue through e-mail automation tools like MailChimp and Omnisend.
E-COMMERCE SALES
BUY ECOMMERCE EMAIL MARKETING SERVICES
E-COMMERCE E-MAIL MARKETING SERVICES

E-commerce E-mail Marketing
In E-Commerce E-mail Marketing Campaigns, we identify your target audience, reach out to them with compelling offers, and capture leads and subscribers. This marketing strategy involves sending promotional e-mails to potential and current customers to boost the sale of products or services through an online store. The goal of an e-commerce e-mail marketing campaign is to increase website traffic, generate leads, and ultimately drive sales.
We automate this entire process by using e-mail automation tools like Sendy, MailChimp, and Omnisend. We work with you to develop high-converting e-commerce e-mail marketing campaigns. Our strategy is to create an e-mail copy that is SEO friendly and makes an emotional connection with your customers. We make it easy to manage your contact list, segment customers into groups, and track the performance of your e-mail marketing campaigns. We ensure your e-mail doesn't end up in the spam folder. We help integrate e-mail marketing automation software to your e-commerce sites, like Shopify, WooCommerce, Magento, or any other platforms.
E-mail Template Development
An e-mail template is used to provide a consistent look for a company's marketing e-mails and can include elements such as the company's logo, brand colors, and other design elements. The goal of e-mail template development is to create a visually appealing, easy-to-read, and mobile-responsive template.
Our team creates unique and stunning e-mail templates that reflect your brand image and captivate your target audience. We believe in personalization and customization according to your business goals.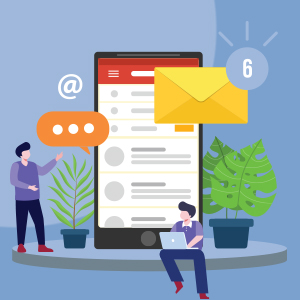 E-mail Campaign Creation
E-mail campaign creation is all about planning, designing, and launching an e-mail marketing campaign. It involves identifying the target audience for the campaign, creating a compelling message and call to action, and designing an eye-catching e-mail template. The goal of e-mail campaign creation is to generate leads, drive website traffic, and ultimately increase sales.
Whether you need to send bulk e-mails for lead generation, lead offers, promotional offers, thank you e-mails after the purchase, or just want to promote your product or services. We create a full-fledged strategy from scratch that suits your business needs and customers.
E-mail Automation with tools
E-mail automation can help to save time and improve the effectiveness of an e-mail marketing campaign by ensuring that the right message is sent to the right person. Many different tools are available for e-mail automation, and we choose the best e-mail automation tools like Sendy, Mailchimp, and Omnisend. These tools typically allow users to set up automated e-mail campaigns, customize e-mail templates, and track the performance of their e-mails.
E-mail List Maintenance
E-mail list maintenance helps in keeping an e-mail list up-to-date and accurate. It involves regularly removing inactive or unengaged subscribers and adding new subscribers who have opted in to receive e-mails. Maintaining an e-mail list is important because it helps ensure that the right people receive the right messages. It can also help to improve the deliverability of e-mails and avoid being flagged as spam.
Advanced segmentation
Knowing your target audience well can tremendously impact the efficacy of your marketing efforts. Therefore, advanced segmentation has become a critical component of e-commerce marketing strategies.
We run an A/B test to understand and segment your target audience; this helps us in creating a better e-mail campaign strategy. Our team starts by targeting the smaller groups of contacts with a tailored message and observing the response. Thus, depending on the results from various smaller campaigns, we pick the best-performing campaign and scale them up.
Delivery Rate Optimization
Our world-class cloud-based e-mail sending infrastructure brings out the best compelling e-mail campaigns that ignite customers' interest and start the conversation. We make sure to follow all the rules of ethical e-mail marketing to ensure that e-mails reach the right person at the perfect time and do not land in the spam folders.
ROI Tracking and Weekly Reporting
Our team maintains weekly reports to track and analyze the ROI, e-mail campaign click-through rates, e-mail list unsubscribe rates, and other business metrics. In addition, we record and study your site's analytics to fine-tune the e-mail strategy.
HOW WE DO IT ?
E-mail Template Development
E-mail Campaign Creation
Define Goals & Build Strategy
E-mail Automation with MailChimp and Omnisend
Upload & Segment Customer E-mail List
Set E-mail Signature of Brand or Individual
Audit Past E-mail Marketing Activity
Personalized E-mail Content Creation
E-mail Customization
E-mail Tracking
Landing Page URL Tagging
Generate an attractive Subject Line
Bulk E-mail Scheduling
ROI Tracking
E-mail List Maintenance
Weekly Reporting
WHY YOU SHOULD GO FOR IT ?
E-mail marketing is an affordable way to connect with your target audience.
Create personalized content.
Generate traffic to your site.
Have a forum for self-promotion.
Own your media and contact lists.
Reliable
Measurable
Reach customers in real-time
Increase brand awareness
Reach an already engaged audience
Deliver Targeted Messages
Builds relationships and credibility
Scalable
Time efficient
Drive Revenue
Instant Impact
GET IN TOUCH

Share Your E-commerce E-mail Marketing Requirements with us. We will get in touch with you within 24 hours on Weekdays and within 48 hours on Sat/Sun.
CUSTOMER SUPPORT TEAM
Customer support team will pick your requirement and assess it to see if we have a suitable offer for you and may contact you to understand more about the requirements.
TECHNICAL TEAM
Support team will discuss with the Technical team and get a proper proposal for you for your requirements. Technical team may reach out to you if needed.
PROJECT INITIATION
Once you approve the project proposal and pricing then a project manager will be assigned to you who will setup and liaise with the team for you.
START YOUR PROJECT