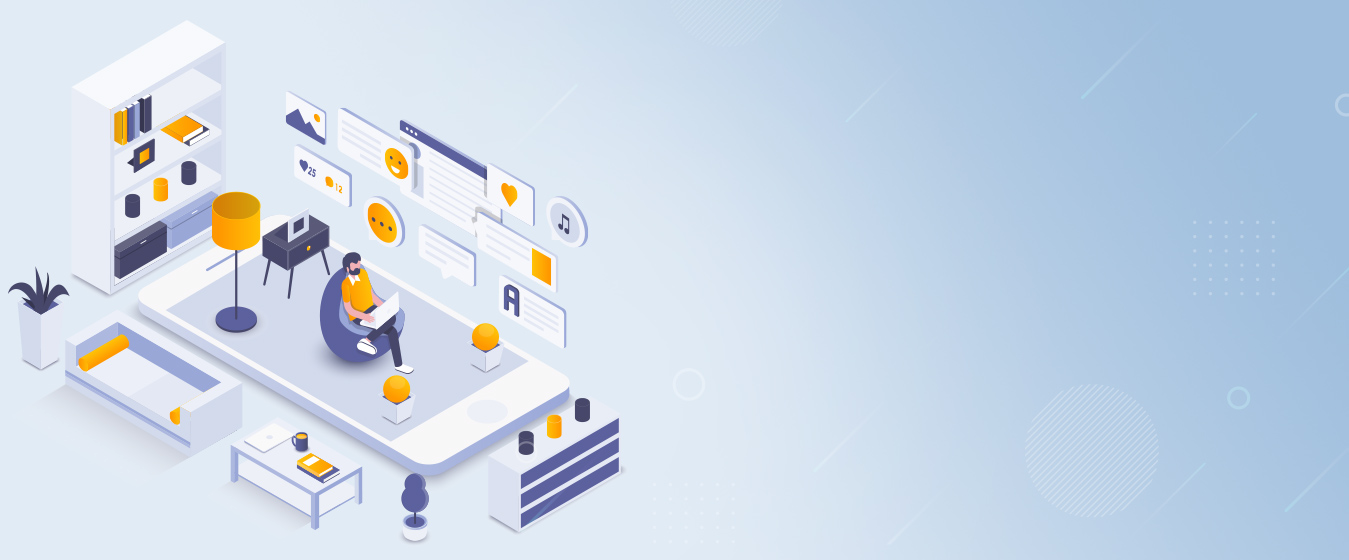 Millions of sales
OPPORTUNITIES AWAIT
Half of the world is present on social media! Harness this never-before opportunity to reach out to your customers.
you on social media
BUY ECOMMERCE SOCIAL MEDIA SERVICES
E-COMMERCE SOCIAL MEDIA SERVICES

Social Media Marketing
Social media is where all the conversation is happening. Literally, everyone is on social media platforms like Instagram, Facebook, Twitter, LinkedIn, and more. We're living in the age of social media, and at this point, it is an unavoidable part of doing business. Social media marketing is effective for e-commerce businesses; the goal is to increase brand awareness, generate more leads and drive sales. We regularly engage with your audience on social media platforms, post interesting and helpful stuff about your store, and interact with your customers.
Our unique social media marketing strategies focus on increasing your reach, brand effectiveness, and ROI. We emphasize on improving customer service and building relationships with customers.
E-Commerce Setup for Social Media Marketing
Social media e-commerce helps build a bridge between brands and potential customers; more and more consumers are discovering brands through social media. We do all the required setup for your social media marketing. Our team integrates social media channels like Facebook and Instagram into your online shop. We integrate them with your store and also create shops on these platforms, which are synchronized with your e-commerce shops. We also add analytics code on your shop so social media can track and reach out to your users.
Sales Funnel
Social media marketing can play a vital role in this process by helping businesses attract potential customers and move them down the funnel toward making a purchase. SMM works for both B2B and B2C businesses as a high number of followers provides you recognition and brand awareness and can be converted into paying customers. We create customer-centric content, appealing creative with a social media marketing strategy around this content.
Complete Brand Control
Complete brand control with social media marketing is not an easy task to achieve. It requires efforts and attention to ensure that all your social media content aligns with the brand's image and messaging. Our social media marketing team works closely with you to deliver brand awareness, targeted traffic, and potential leads for your business. We have expertise in Social Media Management for all major social media channels like Facebook, Instagram, Pinterest, Twitter, and LinkedIn.
Content
Every social media channel requires compelling and insightful content to convey a unique brand message. We acknowledge your requirements and create engaging and relevant content for social media distribution.
Our team includes content writers, video creators, and graphic designers. We can repurpose your content for various social media channels using the latest software tools and applying our creative ideas.
Scheduling & Execution
Social media requires a set frequency of content distribution; you cannot switch it on and off as per your comfort. Therefore, it needs a dedicated team that can post new content regularly and even interact and engages with followers. We take care of the tedious part so you can completely focus on your business rather than worrying about social media engagement.
Our approach
Brand Analysis and Market Research
Identify Target Audience
Content Strategy
Make Right Content
Run Social Media Campaigns
Tracking, Analysis, and Reporting
HOW WE DO IT ?
Identify the Target Audience
Identify Social Media Goals
Social Media Page Set up
Facebook Pixel Set up
Social Media Account Management
Social Media Campaigns
Device Targeting
Demographic Targeting
Interest Targeting
Social Media Account Audit
Advertising Strategy and Consultation
Posts Creation and Scheduling
Social Media Optimization
Ad Copywriting
AB Testing
#hashtag Trend Research
Social Media Analytics Tracking
Campaign Budget Optimization
Create Viral Content
Help in creating graphics, videos, and text content to be posted for paid campaigns.
Creating a campaign calendar
Weekly Reporting
WHY YOU SHOULD GO FOR IT ?
Increased Brand Awareness
More Targeted Traffic
Measurable Results
Goal-driven Social Media Strategies
360-degree Social Media Branding
Social Media Optimization
More Social Engagement and Interaction
Social Collaboration
Generate Potential Leads
Better Customer Satisfaction
GET IN TOUCH

Share Your Ecommerce SEO Requirements with us. We will get in touch with you within 24 hours on Weekdays and within 48 hours on Sat/Sun.
CUSTOMER SUPPORT TEAM
Customer support team will pick your requirement and assess it to see if we have a suitable offer for you and may contact you to understand more about the requirements.
TECHNICAL TEAM
Support team will discuss with the Technical team and get a proper proposal for you for your requirements. Technical team may reach out to you if needed.
PROJECT INITIATION
Once you approve the project proposal and pricing then a project manager will be assigned to you who will setup and liaise with the team for you.
START YOUR PROJECT