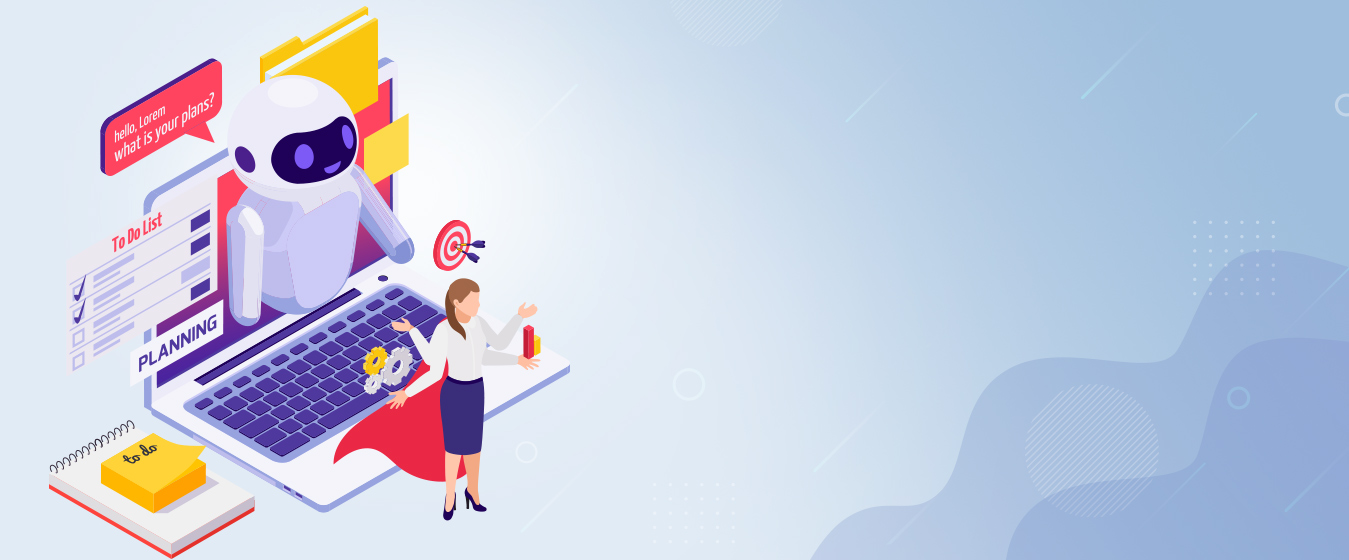 GET A CHATBOT
FOR YOUR WEBSITE
Get a human like ChatBot for your website. Be available 24x7 by automating customer support and lead generation.
BUY CHATBOT
CHATBOT SERVICES

WHY DO YOU NEED A CHATBOT?

ChatBot offers a personalized experience to your customers based on their profile and the context of the conversation. In addition, Chabot can also perform multiple other tasks.
You can set a standardized support communication language for your organization. It helps in providing a consistent experience to users.
ChatBot offers off-hour support, providing an instant response. If your customer service executives are busy on other calls, then you can still resolve the majority of the queries through Chatbots.
A customer feels more comfortable with chat; however, many companies don't use the chat feature because it requires a dedicated team that can provide 24×7 support. Now Chatbots can automate most of these conversations.
Accelerates Operations as ChatBot are limitless, unlike human agents. Therefore, employing ChatBot solutions complement the human task force, thus boosting efficiency and reducing cost and effort.
ChatBots are cost-effective and time efficient. Once you drive traffic to your website, engaging visitors with ChatBot becomes easy and quick.
HOW DOES IT WORK?

We acknowledge that every customer has a unique identity and requirements. Our team studies and understands our customer's specific requirements and creates a chatbot catering to those requirements. After all, your ChatBot is your first brand ambassador.
Information Collection
We research your customer support and processes which you wish to automate. Our team will mine your data for customer queries and the best possible responses to understand your customer.
Context groups
We create groups of contexts relevant to your company or specific industry. When a customer asks a question that falls under a certain context, the Chatbot responds within that context.
Actions
A chatbot can perform various actions as per the user's requirements. We develop these action hooks through conversation contexts, and it is quite helpful to get a task done through these chatbots.
Tree formation
Information can be classified through the "trees and branches" approach. Our team helps you organize information through a formal "tree" process and utilize this classification to maintain consistency across conversations.
Chat building
We build your Chatbot by populating organized and context-oriented information on a standard chatbot platform. We make sure that the Chatbot adheres to the best practices of your company culture.
AI Learning & Training
AI learning is enabled for chatbots; they work not only on context and information trees but also learn through real customer interactions. We also provide real-time training to bots with the help of historical conversations.
HOW ARE CHATBOTS USEFUL FOR THE WEBSITE?

Support
Automate your support 24×7 by using ChatBot. You can integrate ChatBot with CRM, lead capture, and various other customer touchpoints.
Customer Acquisition through Social Media
Chatbot on Social Media platforms like Facebook helps get new customers and convert existing leads.
Personalize Products and Services Search
ChatBot helps personalize the product search through various questions and if-else-then scenarios. It helps in greater customer satisfaction.
Customer Data for better experience
You can collect customer data like purchase history to enhance their experiences and service.
Improving Customer Satisfaction
E-commerce chatbots help clarify all customer doubts by providing 24×7 support. As a result, your customers would no longer suffer from annoying calls and scrolling endless FAQ sections.
WHAT WE DO?

ChatBot Setup
We set up the ChatBot for your E-Commerce store and add product search, product recommendation, and a complete order and checkout process in the ChatBot.
ChatBot Integration with Mobile App and Web Applications
Our team helps integrate your ChatBot into Mobile apps and other types of applications as well.
ChatBot Development
We can help develop a new ChatBot platform from scratch as per your needs.
ChatBot Integration with Social Media and other platforms
Marketers consider and appreciate the use of chatbots on social media. The efficiency of social media is well proven as it generates more personal engagement with users. We help integrate ChatBot with various social media platforms and other platforms.
WHY CHOOSE US ?

We can build Chatbot using various platforms like api.ai, Watson conversation, or any other platform you choose. Our team takes care of API POCs and saves you from the hard work.
The chatbot project does not end with the launch alone, as user needs keep evolving, and we continuously fine-tune your Chatbot. We offer lifetime support for Chatbots.
We are experts in Websites, ChatBots and do secure and efficient integration of ChatBots into Websites.
We provide simple Chatbot integration with web frameworks but also create a full-fledged web application based on Chatbot APIs and integrate various other systems and services.
We help integrate your Chatbot with social media chat tools like Facebook Messenger, Slack, and Telegram and web application frameworks like HTML5, node.js, Java, .NET, or mobile app platforms like Android, iOS, and others.
GET IN TOUCH

Share Your Chatbot Requirements with us. We will get in touch with you within 24 hours on Weekdays and within 48 hours on Sat/Sun.
CUSTOMER SUPPORT TEAM
Customer support team will pick your requirement and assess it to see if we have a suitable offer for you and may contact you to understand more about the requirements.
TECHNICAL TEAM
Support team will discuss with the Technical team and get a proper proposal for you for your requirements. Technical team may reach out to you if needed.
PROJECT INITIATION
Once you approve the project proposal and pricing then a project manager will be assigned to you who will setup and liaise with the team for you.
START YOUR PROJECT