MARKETING SERVICES
Creating a beautiful and useful mobile app is the only first step. You need to spread it like a wild fire and get the ultimate returns.
MOBILE APPS
BUY APP MARKETING SERVICES
MOBILE APP MARKETING SERVICES
Mobile App Marketing
We advise on strategies to make mobile app marketing ready and market it through various channels like video marketing, referral, sharing, viral marketing, SEO and paid marketing. Mobile App marketing is more complicated than the usual website marketing as major app stores are confined to private and closed environments and not as open as the web. So we need to use innovating and novel methods to reach out to the right users.
We create tailored mobile app marketing campaigns to reach out to a large number of relevant users. We also use other important strategies like publication of app in important blogs, journals, magazine and getting it reviewed and marketed by influencers.
Strategy
We work on a marketing strategy which is unique for your mobile app. Mobile app marketing process starts with asking a simple question "why and who needs your mobile app?" We work through your unique selling points and design your marketing campaigns around that to attract the right kind of users who are going to keep and use your apps for a long time. Mobile marketing involves segmenting the target audience, educating them, convincing them that this app is the right solution for them and letting them install the apps and finally analyzing their in-app behaviour.
We provide a comprehensive app marketing plan with a detailed approach to launch, promote, and monetize your app.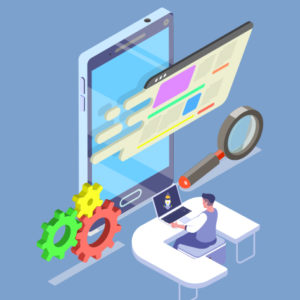 Mobile App Store Optimization
The goal of Mobile App Store Optimization is to drive more traffic to your apps in the app store so that more users download your app. Our data-driven approach increases search visibility and organic downloads in the app stores. We follow the right standards to fix mobile app content, make it search friendly and do other technical updates to make it compliant for the app stores so they can highlight and promote in the app stores itself. We also build useful backlinks to your app pages.
Social Media Services
We improve the app discovery and brand awareness on social media platforms through social media campaigns. Marketing your mobile app on social media requires unique and sharable content that should be relevant to your app. Also highlighting the benefits of your app by user feedback and review will develop a niche community around your app and help you drive the downloads.
Paid Ad Campaigns
We design paid ad campaigns to increase your app's reach, relevance, and download results. We use an effective form of advertising like pre-roll advertising, skippable, unskippable, Native advertising, social media ads, and Adwords as per your requirements and budget. We run in-app advertisements as well on other similar apps so you gain the right kind of users in the fastest possible timeframe.
Mobile App Analytics
We use effective Mobile App Analytics to understand your unique users, track their behaviour and report app's performance. This will help in devising strategies to improve your conversions and also in designing a better app experience for the users.
User Engagement & Retention
We advise on app functionalities and user engagements strategies. We review your app and make sure that you have a High-Quality App with proper functionality that converts users to loyal, long term customers. We make sure that users are engaged and retain them by helping you provide them the best value and incentivize them to come back to your app again and again.
App Indexing
App indexing is important to get your app into Google Search. App indexing reengages your app users, increase traffic, conversions, and app installations. It is very important to attract new users and grow your app in the competitive landscape of mobile apps.
HOW WE DO IT ?
Research Your Audience
Understand Your Competitors
Market Early
Optimize Your App for App Stores
Get Genuine Reviews
Work on Social Media
Monitor Results
WHY YOU SHOULD GO FOR IT ?
Mobile Apps are best ways to create a loyal user base
Personalized content
Instant Online and Offline access
Push notifications and instant updates
Branding and Design
Productivity improvement and Cost reduction
Interactive Engagement
Increased SEO potential
GET IN TOUCH

Share Your Marketing Requirements with us. We will get in touch with you within 24 hours on Weekdays and within 48 hours on Sat/Sun.
CUSTOMER SUPPORT TEAM
Customer support team will pick your requirement and assess it to see if we have a suitable offer for you and may contact you to understand more about the requirements.
TECHNICAL TEAM
Support team will discuss with the Technical team and get a proper proposal for you for your requirements. Technical team may reach out to you if needed.
PROJECT INITIATION
Once you approve the project proposal and pricing then a project manager will be assigned to you who will setup and liaise with the team for you.
START YOUR PROJECT