GAIN CUSTOMER TRUST AND ENSURE
BRAND SUCCESS WITH GOOD
Your Brand's Online Reputation is the most important thing to make a great first impression among your target audiences.
ONLINE REPUTATION MANAGEMENT


BUY ORM SERVICES
ONLINE REPUTATION MANAGEMENT SERVICES

Online Reputation Management
ORM is an integral part of the corporate strategy as it builds and maintains customers' trust in the business. However, negative reviews, illegal content on hate sites, negative media coverage, and false information are some of the reputation-related challenges businesses face. Thus, businesses must protect their online image from being tarnished by these negative comments and reviews.
Our ORM Service involves monitoring and shaping the online reputation of an individual or organization. It involves responding to negative reviews or comments, promoting positive content, and presenting a positive image of the organization online. We ensure that your online reputation is protected and balanced by taking genuine customer reviews and making sure that it is available online.
Reviews & Social Media
Reviews and social media play a significant role in online reputation management (ORM). Reviews, whether positive or negative, can majorly impact an individual or organization's online reputation. Positive reviews can help improve the reputation and attract new customers; however, negative reviews can damage the reputation and drive customers away.
Social media can also be a powerful tool for ORM, allowing individuals and organizations to engage directly with their audience and control their online image. Public platforms like Twitter and Quora are also vital in building public perception. Our ORM services help you strategically manage your online reputation.
Competitor's sabotage
Competitor sabotage is the practice of damaging the online reputation of a competitor to gain an advantage. It can take many forms, such as posting negative reviews or comments about the competitor, spreading false or damaging information about the competitor, or engaging in other activities that are intended to harm the competitor's reputation.
Competitor sabotage is considered unethical, but when your business grows big, competitors come behind you and try to sabotage your business by investing in building a negative reputation. Our team identifies such content and works with various platforms to report and get it banned.
Ex-Employee issues
An ex-employee can potentially cause issues for online reputation management (ORM) if they have negative experiences or feelings about their time with the organization. In addition, they may choose to share their experiences online, either through social media or review sites, and their comments can damage the organization's reputation.
We work on your employee exit policies and interviews to understand the issues and try to resolve them proactively. Our team contacts your ex-employees and ensures that they have a proper channel for their complaints and that their issues are resolved as soon as possible so they can close their online reviews.
Fake news
Fake news can potentially be a major issue for online reputation management (ORM). Fake news is false or misleading information that is presented as if it were real news. It can be damaging for individuals and organizations because it can spread quickly online and be difficult to contain or correct once it is out there.
In order to prevent or address fake news, organizations need to be proactive in monitoring their online reputations and responding to any fake news that is published. Our team works as your army to fight fake news and ensure a proper follow-up process with good PR and positive reinforcement through the right public communication. It is also essential to be transparent and honest in your communication, as this can help you build trust and credibility among your audience.
Unwanted controversies
Unwanted controversy can cause significant issues with online reputation management (ORM). Controversy can arise for many reasons, such as miscommunication, a mistake, or an inflammatory statement or action. It can be damaging for organizations because it can attract negative attention and be challenging to control or contain.
By being proactive and taking a strategic approach to ORM, organizations can protect their reputations and minimize the impact of any unwanted controversy. Our team handles your entire PR process during this time of crisis and makes sure that there is minimum damage and that you can come out from it as soon as possible.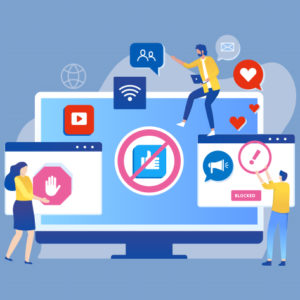 Ban on Social Media and Marketplaces
Social media and marketplaces are important platforms for individuals and organizations to engage with their audience and manage their online reputations. A ban on these platforms could limit an organization's ability to monitor their online presence and respond to any negative comments or reviews.
Social media bans could also make it difficult for businesses to promote their products or services, which could impact their ability to attract new customers. In order to mitigate the impact of a ban on social media and marketplaces, organizations may need to explore alternative platforms and strategies for managing their online reputations. We audit your social media content and make sure that it is clean and does not generate any controversy.
Ban from Google and other browser
Google and other browsers are the primary way most people access the internet, so a ban from these platforms could make it difficult for organizations to be found online. Ban could make it harder for them to attract new customers and damage their reputations if potential customers cannot find their websites or online profiles. We help you mitigate the issue by utilizing various strategies.
Rank on Search Engines
ORM can also help businesses improve their ranking on search engines like Google. It is because search engines often consider a business's online reputation when determining its ranking on the search results page. By building a positive online reputation, businesses can improve their search engine ranking and make it more likely for potential customers to find them when searching for relevant products or services.
Grow Customer Trust
The easiest way for customers to choose services or products from businesses is through online reputation and reviews. Once the customer trust is built, they can help spread your message through mouth-to-mouth publicity and referrals.
Our effective ORM strategies help improve your business reputation and build trust among your customers. It can lead to increased customer loyalty and higher sales.
HOW WE DO IT ?
Build and Manage Reputation
Audit Public Content and Suggest Ways to build Positive Content
Improve communication with clients and employees to limit grievances.
Manage systems to handle and resolve public grievances.
Acknowledge Negative Reviews & Feedback and reach out to the people to resolve and close them.
Review of ORM Strategy
Help collect Positive Reviews from genuine customers.
Monitor Online Reputation
Generate High Authority Backlinks
Client Interaction & Understanding
Online Reputation Optimization
Wikipedia Services
WHY YOU SHOULD GO FOR IT ?
Improves search engine ranking
Builds Credibility
Build and Market Your Brand
Increase Customer Satisfaction
Helps in regular monitoring of your Reputation
Gain Potential Customers' Trust
Cost-effective marketing strategy
Boosts sales
GET IN TOUCH

Share Your Local SEO Requirements with us. We will get in touch with you within 24 hours on Weekdays and within 48 hours on Sat/Sun.
CUSTOMER SUPPORT TEAM
Customer support team will pick your requirement and assess it to see if we have a suitable offer for you and may contact you to understand more about the requirements.
TECHNICAL TEAM
Support team will discuss with the Technical team and get a proper proposal for you for your requirements. Technical team may reach out to you if needed.
PROJECT INITIATION
Once you approve the project proposal and pricing then a project manager will be assigned to you who will setup and liaise with the team for you.
START YOUR PROJECT