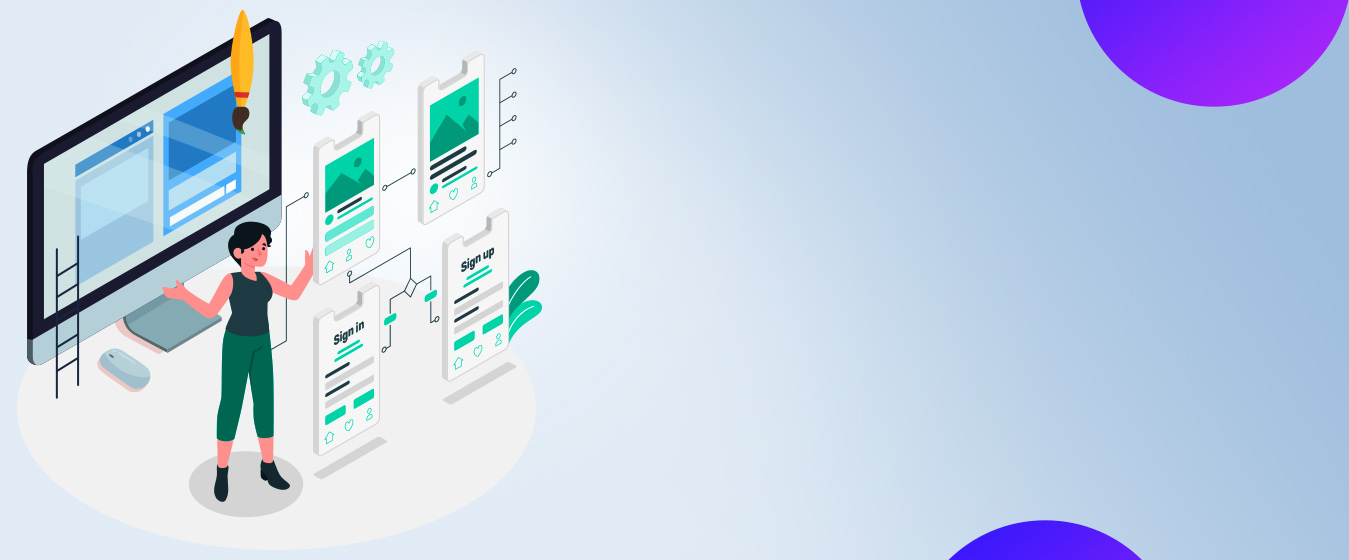 User Interface and
USER EXPERIENCE WHICH
We help in building the right UI and user experience for your websites. We believe that every business is unique and should have a unique approach for UI/UX.
delivers the results
BUY UI/UX SERVICES
UI/UX SERVICES

UI Design
In an era with millions of websites available, the most sacred thing is the user's attention. A good User Interface is the first step to getting a user's attention. You can build a narrative based on this first impression; a good UI alone may not give you all the desired results, but a bad UI has the power
to kill your business. We focus on building clean, high-performing, relevant UI for your business. For example, some businesses may need a lot of colors and animation; others may need a white background-based text
website. Needs are different for each business, and so are our solutions.
UX Design
User experience or customer experience is not the same as the UI. Your UI may be one of the best; however, you might be delivering a terrible user experience. The proper balance between UI and UX is necessary. UI is what attracts the user, and UX is what facilitates a smooth transaction on your site. We make sure that your site scores well on UX and that users are neither confused nor distracted when exploring your site. In addition, we understand your primary goals with the site and ensure
that all action elements on the site are properly aligned with your goals.
Prototyping & Wireframing
We discuss your requirements and build prototypes and wireframes before embarking on the actual development of the site. It helps us understand your requirements and goals and gets it on a wireframe before actually coding it.
All changes are implemented on wireframes, which are much less costly than redesigning the actual site; this approach is followed for custom site development.
Theme/Template building
A well-curated and customized theme gives your website/blog a unique look. Our dedicated team of professional web developers can create customized, clean, and responsive themes that are ideal for your business needs. Once the ideal theme is created, we also install third-party plugins, widgets, and easy-to-use templates. We promise you the best-tailored theme in a cost-effective manner.
Redesigning and upgrading the site
With the emerging cut-throat competition, redesigning and upgrading your website is becoming the need of the hour. At FirstWire Apps, we give your website not only a refreshed, updated, and professional look but also enhance its functionality and usability. Our emphasis is on creating a better user experience and giving your website an industry-relevant look and feel. Our team constantly strives to excel in developing compelling websites at a highly competitive price.
Graphics & Videos
We can also assist you with graphic elements like banners, social media posts, videos, brochures, logos, and any other assets related to your digital business.
GET IN TOUCH

Share Your UI/UX Requirements with us. We will get in touch with you within 24 hours on Weekdays and within 48 hours on Sat/Sun.
CUSTOMER SUPPORT TEAM
Customer support team will pick your requirement and assess it to see if we have a suitable offer for you and may contact you to understand more about the requirements.
TECHNICAL TEAM
Support team will discuss with the Technical team and get a proper proposal for you for your requirements. Technical team may reach out to you if needed.
PROJECT INITIATION
Once you approve the project proposal and pricing then a project manager will be assigned to you who will setup and liaise with the team for you.
START YOUR PROJECT